CONNACHT TRIBUNE
Keeping it real for Christmas at local tree farm
---
---
Galway Advertiser 2018
Long lasting family Christmas traditions and wonderful memories on Galway's only "Pick Your Own" Christmas Tree Farm
Kids of all ages LOVE Galway Christmas Trees. Why – Because they get to see our beautiful trees still growing in the ground, pick the one they love the best, mark it as their own with our red ribbon, and then…they get to see it being cut down right there and then, they can help to carry it in, and see it going though the netter, along with many a child!
What a great family tradition to add to your Christmas memories.
Our customers have been visiting our farm for many years now. We see whole generations every Christmas. We have seen couples get married, children arriving, families growing, and what a joy to see everyone as each year passes.
Our customers tell us "Brilliant selection of trees, staff are superb,  such a warm welcoming local family business! Makes getting the tree extra special! Once you visit them once, you'll be hooked for life!"
Our trees are growing right on our farm. So you put on your wellies (and we have a supply of all sizes if you forget yours!)          take one of our signature red ribbons, and off you go to pick the tree just right for you.
We grow all types of trees – the traditional Norway Spruce, the noble fir, Nordman & Frazer Fir, and the lodgepole pine. According to one of our customers
"Best Christmas tree I've ever had … So worth it to pick your own tree and know how fresh it is as they cut it down for you there and then. Great day out for kids".
We have been growing and caring for our trees all throughout the year. We prune, shape, fertilize, and replant so that you can pick a beautifully shaped, full tree –  exactly the way you want it, and perfect for that special place in your home. And for every tree you pick, we plant 3 new ones, so how is that for environmentally friendly!
So come on out to experience the joy for yourself.
We look forward to being part of your Christmas tradition!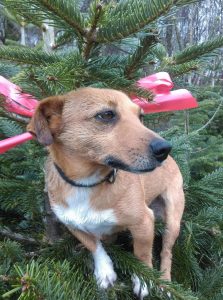 Pets welcome too!
Website
http://www.galwaychristmastrees.ie
Facebook
https://www.facebook.com/GalwayChristmasTrees
Open
Daylight hours from Friday November 23rd to Saturday  December 22nd.
Contact: Martin 087 2672386
---
Christmas Tree Tradition
by Sharon Dolan D'Arcy 2015
Christmas is steeped in traditions. One of the first traditions to be carried out in the run up to the holiday season, is to choose the Christmas tree itself. This is an image we often see nostalgically played out in Hollywood Christmas movies so it is all the more thrilling considering that it can now be done closer to home in Gloves East! At the farm of Galway Christmas Trees, three miles outside Athenry, this is a long lasting family Christmas tradition that can be experienced and will create wonderful life-long memories.
Galway Christmas Trees farmer, Martin Lynskey tells us that his customers have been visiting the farm for over ten years now. He sees whole generations of some families every Christmas from couples newly married to children arriving, and families growing. He says it is a joy to see everyone as each year passes. Customers tell him  "We have been going here for our Xmas tree for the past 7 years, it's amazing & they are just lovely people! Christmas wouldn't b the same if we didn't pick our tree here "
When customers arrive at the farm, the trees are growing right there. The customers put on their pre-supplied wellies, take one of the signature red ribbons, and head off to pick the right tree for their home. One customer says "Our son loves to run around with his ribbon looking for "the best tree" and loves when they come to chop it down!  When we have been to you and bought our tree our Christmas begins."
The farm grows all types of trees from the traditional Norway spruce to the noblefir and the lodge pole pine. The tree can be viewed from every angle to make sure it's just right. Martin advises customers to remember that the tree will always seem so much bigger when you put it up in your house! He says too that children love to see the tree being cut down, they can also help to carry it and even admits that many a child has gone through their netter on the farm!
Galway Christmas Trees has been growing and caring for trees all throughout the year.They prune, shape, fertilise and replant so that once Christmas time comes around again, their customers can pick a beautifully shaped, full tree – exactly the way they want it and perfect for that special place in their home.  Martin is keen to remind us that for every tree picked, they plant three new ones in keeping with their environmentally friendly policy. Lastly, he advises that once you take your tree home, it's over to you and to remember that every real tree needs lots of water. See Page for tips on looking after your tree.
---
Irish Country Magazine
---